Mead is an alcohol brewed from honey. It's often referred to as the oldest form of alcohol with origins tracing back to 7000 BC. Traditionally, mead is a sweet wine style brew - even labelled 'nectar of the gods' in ancient Greece. Buzz Club mead is anything but traditional. Our light, refreshing, sparkling session meads are brewed dry, from some of the very best honey the globe has to offer (yup, that's right, native NZ honey) and paired with iconic Kiwi fruits. Buzz Club, bringing you a taste of native New Zealand in a can.
Mead is an alcohol brewed from honey and is an excellent alternative to beer and cider. Mead can have a more complex flavour, delivering different floral tones and sweetness depending on which type of honey is used. Discover your next go-to brew with Buzz Club meads.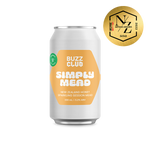 NOW AVAILABLE
Simply Mead
Some things in life are best kept simple. For this mead, we let the native kāmahi do the talking. Turns out it's got a lot to say.
Shop Now
NOW AVAILABLE
Hopped Buzz
Bees can buzz, but they can't hop. That's why God invented brewers. The best of native Aotearoa honey and Kiwi grown hops.
Shop now
Kāmahi Blossom + Lemon
Floral & fruity kāmahi honey, paired with Hawke's Bay lemons for a crisp citrus twist & dry finish.
Shop Now
Rātā Blossom + Feijoa
Smooth & buttery rātā honey, paired with Waikato feijoas for a smooth, soft & fruity session mead. 
Shop Now
Pōhutukawa Blossom + Strawberry
Delicate & well balanced pōhutukawa honey, perfectly complemented by Northland strawberries with crisp hints of apple & lime. 
Shop Now